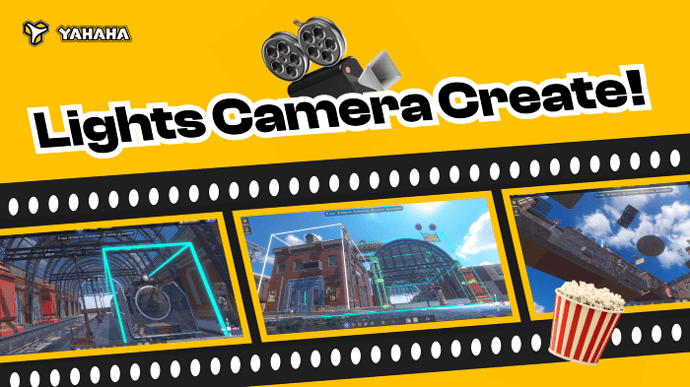 Grab your popcorn because it's time to entertain and be entertained, to experience the thrill of the chase scene, the sadness of the "The End" or the weirdness of that one Monty Python flick… It's time to recreate some movie and TV show scenes!
Pick a film or a show and choose a scene from it. Maybe it's your favorite movie scene, maybe it's visually beautiful, anything that tickles your fancy. (Tip: choose something dynamic and interesting!)
Then, recreate that scene in YAHAHA. Make the scene interactable, animated or otherwise moving (either emotionally or gravitationally).
Publish your creation.
Awards:
1st place: 300 USD
2nd-3rd: 200 USD
Challenge starts on May 10th , and submissions close on May 25, 2022 1:00 PM .
Winners will be announced on May 27, 2022 4:00 PM .
We will then DM the winners for the reward details.
Rules: Yahaha decides the winners. You can show your support by playing the creations and leaving emojis in the submissions. Community's opinion will be considered. To be a valid submission, please follow these requirements:
Create and publish an original project based on a scene in an existing movie or a TV show
Make sure to include a thumbnail and description of your game
Submit your project in the comments below
Feel free to share your creation on social media too and get some of that sweet industry recognition! …because that's showbiz baby!