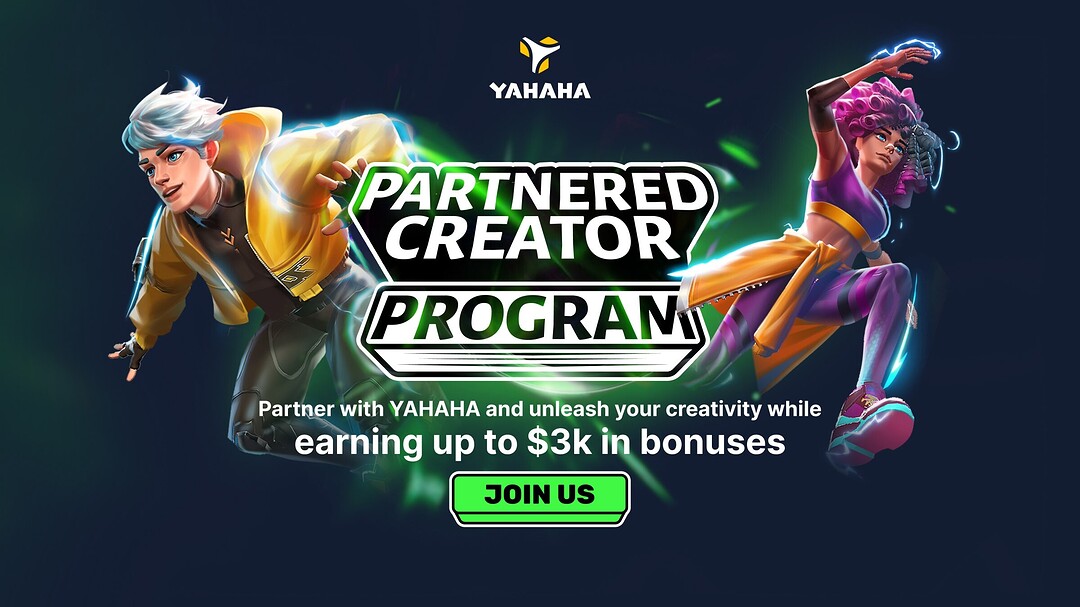 Join our Partnered Creator Program today and access Yahaha Studio to recreate your popular games or craft unique ones from scratch. You can earn numerous rewards and streamline your game development process here. Together, let's build a stronger Yahaha community and unlock endless possibilities for game development.
Partner with YAHAHA and unleash your creativity while earning up to $3k in bonuses. Be part of the next big thing in gaming!
WHAT DO YOU NEED TO DO AS A PARTNERED CREATOR?
OPTION 1:Create a new version of your classic games with YAHAHA Studio.

OPTION 2:Bring your unique game idea to life with YAHAHA Studio.
HOW DO YOU BECOME A PARTNERED CREATOR?
Have at least one popular game published.

Are open to providing continuous feedback throughout your journey with YAHAHA.

Have an active social media presence and are willing to use these channels to document and share your progress with YAHAHA.
Come and join us!
Start registration:https://bit.ly/41ATgLK
For more information visit:Yahaha - UGC Social Entertainment Platform
FAQ
Can I apply for the program if I don't meet all the requirements?
Yes, each application will be reviewed on an individual basis. We will consider applications that show exceptional potential, even if they do not meet every requirement.
When can I expect to hear back after submitting my application?
Once we receive your application, we will conduct a thorough review process. If your application is accepted, we will send you an email notification within 14 business days. Alternatively, you can join our Discord community for real-time updates on your application status.
Is there a deadline for this program?
This program is offered on a rolling basis and will be phased out once we reach full capacity. If you're interested in participating, we encourage you to complete the application form at your earliest convenience.
What types of games are preferred for the program?
We have no preference for genre; our primary criteria for games is that they are complete and well-thought-out.
How is 'a classic game' defined?
To determine if a game is a classic, we review various factors such as number of downloads, ratings, comments, and other relevant data.