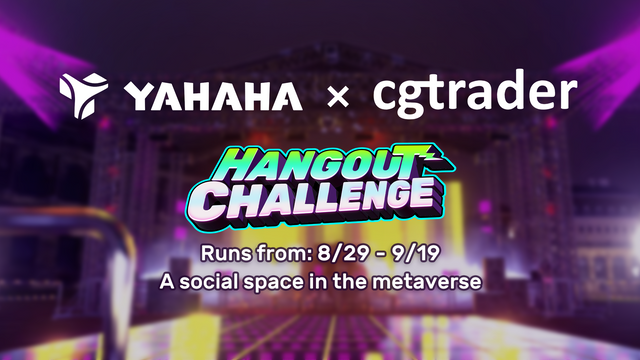 Want to create a space for you and your friends in the YAHAHA metaverse? In that case, take part in our hang-out creation challenge and compete for a $5000 prize pool!
This is a hangout-themed creative challenge, in collaboration with CGTrader.
You can create an abstract space just for you and your friends, or a specific space, such as a gaming club, a coffee shop, a room of your dreams, etc. Anywhere you'd like to spend time with your friends!
Please don't be limited by real-life scenarios, just create to your heart's content!

Timeline:
• Runs from 29 Aug to 19 Sept
• Announced on: 23 Sept

How to join?
STEP 1: Create
Create a new space with YAHAHA creation tool reflecting the theme "HangOut".
STEP 2: Publish
Publish on YAHAHA platform and in the description use the hashtag #HangOut to join the challenge.

Awards:
For the Top 5 Hangout-themed spaces, Yahaha will reward the following prizes:
• The 1st place 1200USD
• The 2nd place 1000USD
• The 3rd place 800USD
• The 4th place 600USD
• The 5th place 400USD
Yahaha will also select the runners-up that have the best vibe, are the most interactive, and are the most popular (most viewers).
Each runner-up will be awarded 300 USD.
Qualified Participant awards: $100 USD worth of YAHAHA coins. To qualify, your submission must get at least 10 visits before 22nd Sept.
The YAHAHA coins can be used to purchase assets and costumes or they can be cashed out.

Rules:
Please create a new space instead of publishing an existing template

Please submit a space that hasn't been submitted to any other YAHAHA events before

Space must follow the theme of the event

Please make sure the description of your space includes the hashtag #Hangout

Please make sure to publish your space before the challenge ends.

You can submit multiple times, however, we will decide your award based on your best work, and only one prize will be given to you.

The final interpretation right of this campaign is reserved by Yahaha Studios.