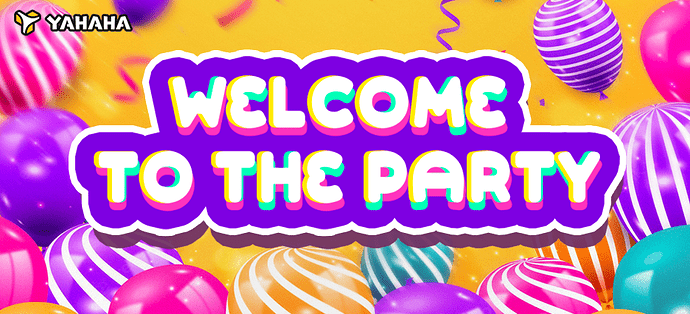 What's better than rounding up your friends and having a blast playing games? Well, doing that in YAHAHA of course!
This event is about creating party games, those playfully competitive social multiplayer spaces that can both make and break friendships. Or if you're not a competitive person, just create a chill little party! As long as it's a fun social gathering place, fit for a party full of lighthearted amusement.
We'd like to see shared, challenging fun that you can enjoy with a larger group of people. Unleash that wild creativity of yours!
Tl;dr:
Create a party game OR a party-themed space.

You can use ready-made assets with built-in components, found i.e. in the Amusement Park template if you'd like.

Awards:
1st place: 300 USD
2nd-3rd: 200 USD
First-timer award: 100 USD (given to best entry from a newcomer, someone who hasn't taken part in the events before)
Challenge starts on September 1st, and submissions close on September 22nd at 1pm GMT+3.
Winners will be announced on September 27th during the playthrough livestream.
We will then DM the winners for the reward details.

Rules:
Yahaha decides the winners.
You can show your support by playing the creations and leaving comments in the submissions.
Community's opinion will be considered.
To be a valid submission, please follow these requirements:
-Create and publish an original project
-Submit your project on the Yahaha forum
Please note that the submissions policy has changed. The correct place for event submissions is now on the Yahaha forum, under this post!
Submitting your creation on the forum will ensure that not only does your entry get seen, but it will also stay there forever so others can see it in the future.
Also, share your creations on social media, think of it as giving out an official invitation to your party!